RIP Sir Sean Connery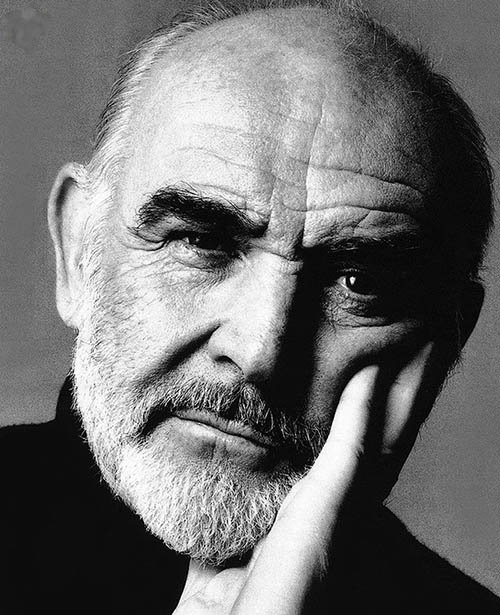 Just when you thought 2020 couldn't be any more of a wall-to-wall crap-a-palooza, now comes word that Sir Sean Conney has left us.
Like most everyone else, I first encountered Connery as James Bond.  As a kid of the 70s, I confess I preferred Roger Moore, with his more conventional "pretty boy" looks and lighter approach, but Connery's films were the ones with all the most memorable imagery: girls painted gold, cars with ejector seats, jetpacks, supervillains living in volcanoes.  In time, Sir Sean would come to equal Roger in my estimation as 007;  together they formed the bookends of Classic Bond, the yin and yang that defined the extremes of the character on film, with everyone else falling somewhere on the continuum. Connery himself, of course, was a major component of the early Bonds' amazing success, with his tremendous screen presence and a raw machismo that upended stereotypes of how a "British" character could behave, or for that matter what a movie "hero" even was.  Forget waiting for the other guy to draw first: Bond would fire on an unarmed man…and shoot him again after he hit the floor. Arguably, no other actor was as uniquely suited to selling the concept of James Bond to international audiences, and without his casting, who can say whether the franchise would still be rolling along in the 21st century?  Still, it's worth remembering that Connery was part of a "dream team" of phenomenally talented innovators that's never really been equalled: the great Sir Ken Adam with his magnificent set designs, Bob Simmons heading up a super-talented stunt team, Peter Hunt reinventing the way action films were edited, John Stears engineering gadget-laden wonders like the iconic Aston Martin DB5, the inestimable John Barry providing gorgeous musical scores and directors like Terence Young, Guy Hamilton and Lewis Gilbert masterminding the translation of Ian Fleming's cool but fairly dour literary hero into a crowd-pleasing screen sensation.  (It's depressing to realize that with Connery's passing, everyone on the above list is now deceased.)
Still, it was Connery's non-Bond films that won me over: the grand spectacle and haunting ending of The Man Who Would Be King, the heroic yet elegiacal Robin and Marian and the period-piece "heist movie" thrills of The Great Train Robbery.  Later would come the terrific "High Noon in space" Outland, a film-stealing cameo in Time Bandits, late-in-the-game Cold War classic The Hunt For Red October and possibly my favorite of the lot, Indiana Jones And the Last Crusade.  Not merely the most successful of the ex-Bond actors, or even the last of the big-time "movie stars," Connery was nearly unique in his ability to stage a career resurgence late in life, becoming as big a success in his 50s and 60s as he'd been his Bond years, and — to the extent such silly things matter — the oldest guy to ever earn the title of "Sexiest Man Alive" (and later "…of the Century").
As noted in an earlier post, the pandemic has given me time to revisit — or discover — classic films instead of visiting the cinema for new ones, and on the whole I've found the experience superior.  This year I've seeen Sir Sean in Murder On The Orient Express, Woman Of Straw, The Anderson Tapes, The Offence and The Hill.  The last one especially was a revelation; after years of hearing how fond of it Connery was, and how good it supposedly was, I went in a bit worried it wouldn't live up to the hype.  However, it is a remarkable work — if at times disturbing and ultimately tragic — and arguably the single best performance given by any Bond actor in anything.
Alas, time conquers all, and so here we are.  Now we enter the obligatory cycle of career retrospectives, front page obituaries, Twitter tributes, "clever" headlines like "Fans Left Shaken and Stirred…" and "His name was Bond…", editorial cartoons that show Connery driving up to the pearly gates in an Aston Martin or trading in his jetpack for angel wings…the tacky potential is limitless.  But ultimately what matters, what will endure, is an impressive legacy of career achievements, the films that will be viewed and re-viewed for generations to come.  Through the Bond films alone, Connery achieved a brand of immortality over which the ravages of time and the transience of earthly existence have no power.  Decades from now, in some corner of the globe, he'll still be alive on a screen somewhere as a heroic ancient king, an aging Chicago cop, a Russian sub commander, an outer space lawman, an immortal swordsman, a plucky professor of medievel studies or of course, the ultimate superspy.
That's a lot of great performances for one lifetime, and a lot of hours of entertainment when we really needed it. Which with due respect to this singularly sucky year, was pretty much all the time.
Godpseed, Sir Sean, and thanks.